UK PSW – Context
In International recruitment, it is now accepted that Post Study Work (PSW) is part of the country's promotion mix. How countries use this strategically determines their position in priority markets. With key destination countries for International student mobility grappling with political and immigration rhetoric headwinds, the time is opportune to consider the importance of moving the lever of PSW for the longer-term benefits of the sector and the wider economy of the recipient nations.
As a UK citizen living overseas in the world's second-largest international student market, that is, India, PSW and immigration policies are constantly front and centre of my everyday working life. A few weeks ago, the UK announced the return of PSW for International graduates effective 2021 and instantly the Indian market for UK Higher Education, which had been in the doldrums since 2012 when PSW was removed, got an instant injection of excitement. The UK lost 40% of its market share in a period of 12 months back in 2012-2013 when PSW was removed and had only recently in the last 2 years started to show some growth in numbers, mainly for those institutions who had invested in the market and remained active here in India. This planned reintroduction of PSW received lots of coverage in the Indian media, with agents and students celebrating and competitor nations starting to prepare for increased competition from the UK which has a high brand value and was a key competitor in the past.
Even though this legislation has still to progress through the UK Parliament, already anecdotal reports show increased traffic into agents' offices for the UK, students shifting priorities from Canada and the USA towards the UK, the UK Universities hurriedly increasing investment into the Indian market and Universities in Australia, NZ, Ireland and elsewhere gearing up for a battle for their market share.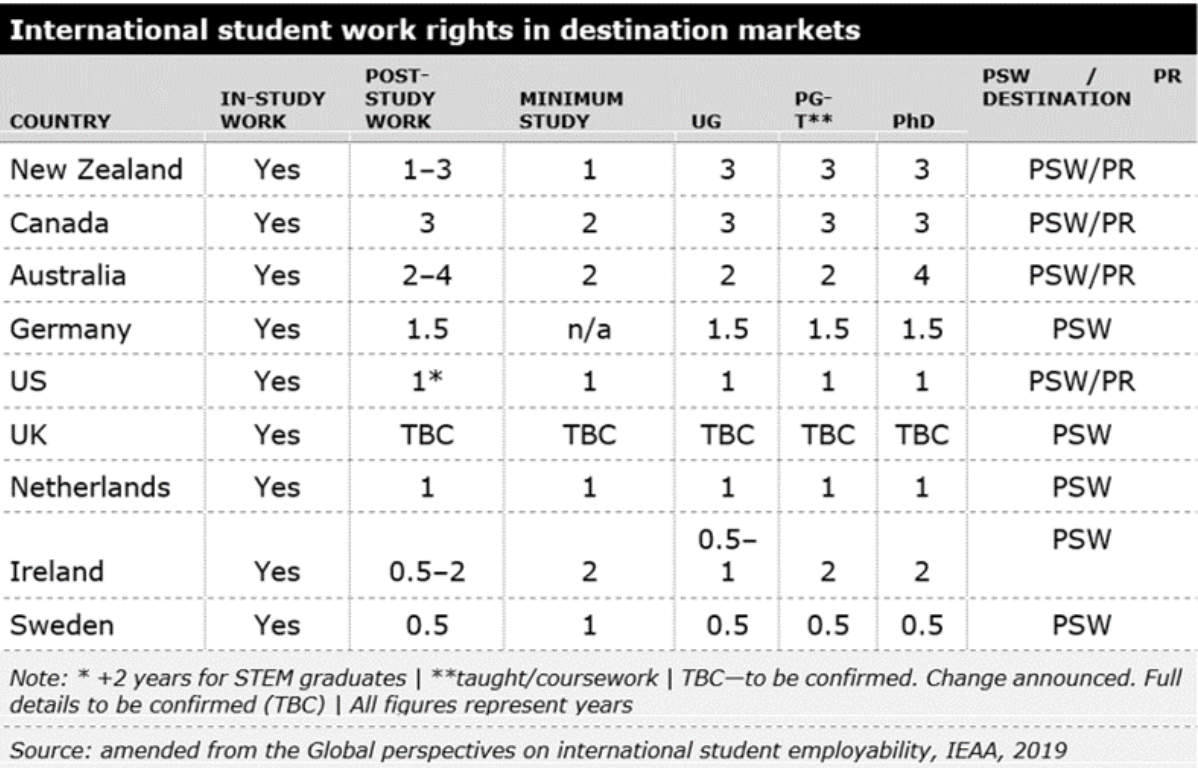 The current state of the global PSW offer is outlined in the chart above. Looking at the data and research into International student flows and mobility it is clear that PSW is a key driver in student decisions making and any changes can have an immediate positive or negative impact. The clearest case study of this connection is Canada, where due to abundant post-study work opportunities, the number of foreign students studying in the country rose 16.25% last year, marking a third consecutive year of double-digit growth and an overall increase of 73% in the five years since 2014.
At Sannam S4, all this has focused our thoughts on the importance and impact of national PSW opportunities and how they drive institutional success in International recruitment.
Lessons Not To Be Forgotten
When the UK lost PSW, institutions that committed to continuing to work in India had to refocus their marketing message somewhere else. Some institutions focussed on integrated work placements to appeal to the PGT market showing responsiveness and flexibility in meeting the market demands in the development of their course portfolio. Others pivoted to focus on an underperforming segment, the UG market,where the target audience is less influenced by changing rules and regulations around stay-back options and are more interested in a high-quality learning environment. Since this group requires direct outreach to high schools and engagement with key student influencers, that is, counsellors and parents, it can take up to 3 years to develop a university's UG pipeline. These are some examples of the strategic and tactical changes that institutions took to offset the impact of the loss of PSW.
Institutions must recognise that their marketing message needs to have a clear distinction between PSW and PR since they are very different drivers for student mobility. PSW is attractive to students in building a career with a global outlook and enhancing their professional profile. On the other hand, students who are interested in PR are looking for permanent relocation possibly with their extended family and the drivers, aspirations and needs of these two groups are distinct and countries and institutions have to frame their marketing messages in very different ways to ensure both the students and themselves are making informed decisions that align with their objectives. An example of a country that is consciously pivoting from PR to PSW is New Zealand.
Do's & Don'ts For Your University's Marketing Message
DO'S
Do focus on inspiring academic experience
Do highlight student experience
Do develop student support that has been crafted to meet international student needs
Do embed employability in the curriculum
Do ensure your careers service has an international outlook
DON'TS
Don't tie your entire marketing message around PSW
Don't be scared of long-tail markets
Don't underestimate the power of social media
Don't ignore the pace of change in your traditional markets
Don't disregard that your perception of your country's standing in a market could be different to the reality on the ground
In conclusion, PSW can be a golden ticket that needs to be handled carefully by all stakeholders involved as international students become an integral part of the future of successful and relevant higher education institutions around the world.
---
About the Author
Delia Heneghan is the Director of Education – India at Sannam S4. Delia brings 25 years of senior hands-on experience of higher education as an academic and specialist in international strategy and operations.
This experience includes over 15 years as a Dean and Director of International at a leading UK university with responsibility for the development and delivery of the internationalisation strategy for the university including student recruitment and partnership development. The role involved establishing international operations and included opening and managing offices in key markets including India and China. Delia's experience includes strategic development and operational delivery in the Indian Subcontinent, China, the Far East, Central Asia, Africa, Europe, the Middle East and the Americas. Following this, Delia added to her international experience spending time in the Kingdom of Saudi Arabia (KSA) as Dean and founding Principal of a women's college of excellence part of the KSA government programme to expand educational opportunities for young Saudi women. Following this experience, Delia took on the role of Pro Vice-Chancellor at an American University in London in 2015. Her operational responsibilities included detailed resource, process, and system reviews.